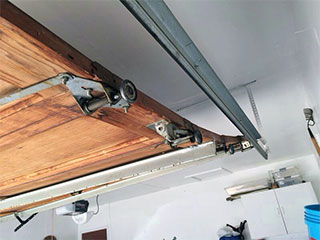 Is your garage door suddenly a lot noisier? A noisy door can result for a number of reasons. Read on for advice on pinpointing the problem.
Poor Installation Method
An installation of a garage door requires a high level of accuracy. If installed poorly, the garage door can hang on one side, such that it scratches the floor when closing and opening. This can be a particularly loud source of noise in a garage door - if you suspect balance or alignment problems, our technicians can happily check this out!
Not Enough Maintenance
If the movable components of the system are not properly maintained, sound can result due to excess friction and not enough lubricant. High friction, especially between the movable parts can accelerate wear and tear, reducing the overall life of the moveable parts and increasing the overall cost of maintenance.
Loose Nuts & Components
Loose nuts can result in various noises when the door is active. Sound will likely result from the uneven movement of the door and nuts as they jangle - there may also be an increase in friction between the parts as a result of this.
Getting Rid Of the Noise
1. Check The Balance & Opener
Accuracy is needed so as to ensure that the door fits the space without being forced and is connected in a balanced, aligned way. It is also a good idea to check the condition of the opener unit as a motor gear that's wearing down can also cause an increase in the level of the system's noisiness.
2. Apply Lubricant & Remove Rust
This is a very important routine to get into - without it, the metallic parts of your system are likely to deteriorate, and rust will spread. We recommend applying protective lubricant at least once every 6 months. If you have a chain-driven opener unit, you should also ensure the chains themselves are lubricated too.
3. Tightening Of Loose Components
The tightening of nuts or any loose components is very important when it comes to preventing unexpected malfunctions in other parts of the system.
Hopefully, our tips here are useful, but if you still can't get to the bottom of your sound problem, our local experts at Beaverton are here to help - just get in touch!