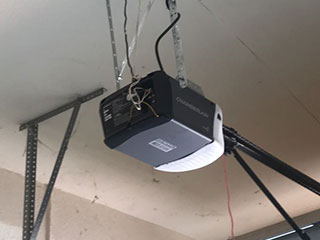 Any device that uses both mechanical and electrical components, the way a garage door opener does, is bound to experience some issues from time to time. These issues can be caused by a wide range of things, due to the complexity of the mechanism involved. When you discover that your motor unit is acting up, reach out to our team to have our experts quickly fix the problem for you.
Common Mechanical Faults
The range of things that can go wrong is quite wide and varied, and it can be sometimes hard to pinpoint exactly which component is to "blame". With our opener troubleshooting and repair services, you won't have to worry about that. Our technicians will quickly examine the entire mechanism, from the motor to the trolley carriage, and root out the source of the problem. Then, we'll set about repairing the damaged part, or replacing it with a new one of a matching quality or higher. A lot could go wrong; motor gears wear out, chain drives can snap and even the trolley can sometimes break. Wherever the problem lies, our team can solve it.
A Few Electrical Glitches
Your opener doesn't consist of only mechanical parts, of course, and its electrical components are also subjected to wear and tear. The circuit board can malfunction and cause the unit to behave erratically, or to fail to run at all. The photo eye sensors can become misaligned, or their wiring can become frayed, at which point you may find your door reversing unexpectedly and without any noticeable reason why. Trust our experienced team to find the source of the problem and to nip it in the bud. We'll make sure your opener returns to its fully functional condition as quickly as possible.
Contact Us Today
We don't just repair these units, we install them too. If you're looking for a reliable LiftMaster chain drive opener, or an ultra-quiet Genie belt drive model, or any other type of unit from any of the major brands we work with, we'll be happy to help you with that as well. Contact Garage Door Repair Beaverton today for all your opener related needs.
Count on us when it comes to:

Opener Sensor Replacement

Garage Door Remote Clickers

Garage Door Roller Repair

Garage Door Weather Stripping