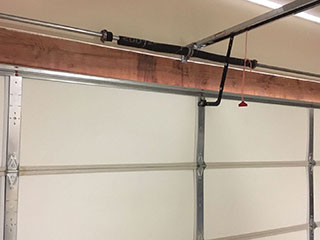 Although it may be tempting to go it alone when it comes to fixing your broken or worn springs, this is best left to the experts. Due to a tremendous amount of stored tension, your springs are under a lot of stress on a regular basis. Should they suddenly snap, this tension will get violently released, posing a significant safety hazard and potentially causing physical injury.
Skilled Spring Adjustment
Over time, your springs will experience a loss of tension which can affect your door's ability to remain open, or in some cases, prevent it from opening at all. Should this happen, call us immediately. Our local team will test your door's balance and make the necessary adjustments. What's more, to ensure an efficient and noise-free performance, we can also lubricate the components.
Replacing Broken Springs
If worn components are not replaced in a timely manner, they will eventually end up malfunctioning or breaking. It's very easy to detect a broken spring. If a one breaks while opening your door, you will hear a loud noise; the door will slam shut and become impossible to re-open.
Torsion Versus Extension
It's easy to visually identify the type of garage door spring your system uses. Torsion springs are installed horizontally along a metal shaft above the door - using tension they rotate to wind and unwind the door. This tension is then transferred to the drums. These drums rotate, collecting and releasing cables which lift and lower the panels as needed. A single spring will support your door's weight. Alternatively, extension springs, installed in a pair, consist of a spring on each side of the door and are parallel to the ceiling. As the door lowers and rises, they stretch, helping to lift the door up. Snapping results in a whiplash effect, which is why these components typically come with safety cables - to secure them in the event of breaking and flying off.
Contact Us Today
Rest assured that in the event of needing emergency spring replacement, our professionals at Garage Door Repair Beaverton will get to you as quickly as possible. Contact us today!
Looking for more? We also offer:

Garage Door Adjustment

Broken Emergency Release

Track Alignment & Repair

Oil Tempered Torsion Springs