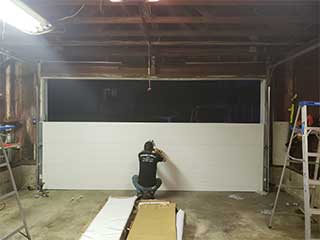 An unexpected breakdown of your garage door or its various components can be devas When your garage door is in need of repairs, there is only one way to get it up and running again. Call one of our technicians for assistance today. tating for your home's security and convenience. Unfortunately, nothing in this world is built to last forever, and even these stalwart contraptions are vulnerable to damage over time. If you're looking for someone to assist you with a replacement job or troublesome malfunction, our team is here to help.
What Can Cause Deterioration?
Damage to your door and its components can come from a number of sources. For example, damp weather can cause rust to spread through the system's metallic components, weakening them to the point where they fail or become unsafe to use. Galvanic corrosion can also take its toll on your system in the same way as rust. When components suffer damage like this, it can pose a serious threat to your garage door and its opener and spread to other parts, so have these components replaced as soon as possible before they fail.
Opener Repair & Troubleshooting
Your door's opener is the beating heart of your automatic system. Because of this, it's placed under immense pressure a lot of the time. However, the resilience of your opener may be undermined by the gradual wearing of its components which operate under friction caused by moving parts. When this happens, it can lower the effectiveness of the opener or cause it to fail outright. Garage door openers can, however, be restored or replaced with the assistance of one of our qualified garage door repair technicians.
Emergency & Urgent Repairs
If your door has suffered a breakdown from natural wear, the outside elements, or an accident, you'll naturally want to get it repaired as a priority for your family's convenience and security. That's why we offer same day call outs for emergency repair jobs - just let us know it's urgent when you get in touch!
Contact our experts at Garage Door Repair Beaverton today - we look forward to hearing from you.
In addition, count on us for:
Roll Up Garage Door Services
Damaged Parts Replacement
Overhead Door Installation
Genie Garage Door Openers